7 Top E-commerce Trends For 2022
If the year 2020 was e-commerce boom, then we can't ignore that year 2021 hit major challenges for industries: Privacy concerns deeply impacted businesses, paid Marketing and supply chain issues too forced business owners to get creative and innovative with their inventory. Despite all that, shopping in the world. remained stable for a long time
As now we approached to the third roller coaster year – 2022 the question is, what will happen to commerce? What will be the new trends of e-commerce? And the most important question, how can Business Owners can take advantage of evolving e-commerce trends in the year 2022?
We have come with the latest trends of E-commerce!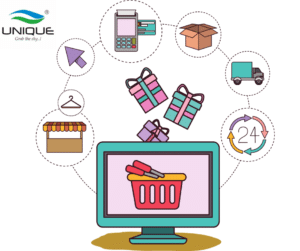 Augmented reality today has enhanced and strengthen the reality of Ecommerce. It has become a complete game changer for the ecommerce industry. With AR, customers can see the item they are shopping, which helps them to make a buying decision. It has completely changed the shopping experience in many industries, like- fashion industry, decor industry etc.
There is a growing demand of voice search these days. Today most of the people from all over the world rely on voice assistants to do their daily tasks. Today more people are adopting smart speakers, more people are utilising voice search to shop online, organize their lives and to their daily tasks. The rise and growth in voice search is creating an opportunity for ecommerce industry too.
Artificial Intelligence helps Companies learn about their customers. AI makes it possible for the customers to have smooth personalized shopping experiences. AI helps companies to collect data about their customers like when they are making purchases, what are their interests and what they are looking for. AI really cannot be ignored or replicated in E-commerce.
Creating Personalized Experience
E-commerce personalization can be a fuel to Ecommerce, this will support and strengthen analytical solutions to help Business owners to understand where their prospects are in their journey and also help them to identify different factors and traits to deliver appropriate Personalised experiences. If vendors want to deliver relevant, individualized experience to everyone, the most ideal way to do that is with AI.
Chatbots enhance the shopping experience for customers. Chatbots communicate with online Customers exactly like in-store sales executive does. Today the customer wants ease and wants ways to find and purchase a product in few clicks, and if they cannot find the product they get irritated. This is where a chatbot can come in picture and save the deal.
Mobile E-commerce sites are more in demand than Web based sites. As it brings ease in the lives of customers by allowing them to make purchases from anywhere they want at any time which is most important in today's world. So, if your ecommerce site is not responsive on mobile, you surely are missing out so many big opportunities.
Shoppers today have their individual needs especially when it comes to payment. Customers can even cancel a potential sale if they don't get their payment gateway to make the payment on an ecommerce website. Therefore Offering different types of payment gateways are a good way to increase the conversion rates on E-commerce mobile devices. Also, if customers can get the feature to vsave their payment information on e-commerce site, is makes the conversion chances more, as with this feature customers will be able to checkout faster every time they make any purchase.
Hope this blog would be helpful to you in understanding the 2022 Trends of E-commerce. If you are looking for the perfect partner to grow your business you have come at the right place. We are the best Marketing Agency covering 360° of Marketing activities, we help all our clients to take complete advantage of complete Marketing and Promotional opportunities. If you are planning to take your Start-up or your Small Scale Business to the next level, do not wait anymore! Contact us today! Let's together work and make your Business a Premium Brand!